WARNING!
this wiki contains
spoilers
from the series!
Welcome to the


Policies Admins Community Discord

For the
Reagans
, family always comes first but working together in the family business brings tempers to bear as cases hit close to home. As the first family of the
NYPD
, their actions are under the microscope more than others in their field, though none of them let that dictate their jobs. From retired Police Commissioner to street cop to lawyer, the members of this family are largely involved with the different aspects of law enforcement and each episode explores how these different roles impact the family both at work and at home.
Read More
Featured
Season 11, Episode 08
March 5, 2021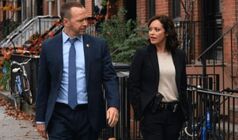 "More Than Meets the Eye"
Only March 5, 2021
Previous Episode – In Too Deep
This Wikia is
NOT
affiliated with the
CBS production studios!
All rights are reserved to and by CBS Interactive. All trademarks are the property of their respective owners. CBS's official
Terms of Use
can be found
here.